Gofamgo participates in affiliate programs. We earn fees by linking to our advertisers at no extra cost to you. We would appreciate it if you use our links to buy these recommended products! You can read more in our disclosure page. Thanks for your support!
Father's Day is here and it's time to celebrate the awesomeness of your favorite man. Here's a curated list of goodies for the travel loving Dad.
Travel Tool
If Dad has a knack for fixing things, then a tool that he could easily bring with him and use will be a great gift. Such tool as the Credit Card Survival Tool is available in Amazon for $5. You can gift it to all the awesome dads you know.
Luggage Scale
Help Dad avoid paying fees for overweight luggage with one of these luggage scales. It's very small. It fits in your palm making it easy to bring and store in one of his suitcase front pockets. It can measure weights of up to 110 lbs.
Tech Organizer Kit
With all the gadgets we own and their respective chargers, wires and accessories, it's easy to get them mixed up. Dad's carry on might end up like a bargain bin in Best Buy. Help him by getting him one of these organizers.
Luggage Finders
Small and inexpensive, these item finders are good travel accessories. It will track your item via GPS, play a tune if you're near, and saves Dad a headache from dealing with lost luggage or items.
Eco-Friendly Glasses
For the cool guy in your life, get him new shades for the summer. Aside from being stylish, these glasses were made from sustainable bamboo, which makes them lightweight. It's also perfect for the beach or the pool since these glasses float on water. There are different stains available such as Black, Brown or Whitewashed, etc. For every purchase, the company donates prescription glasses and an eye check up for those who cannot afford it. Win! Check out my husband sporting the Brown Kennedy from the picture above.
Portable Power
One of the inconveniences of traveling is running out of battery for your mobile phone or laptops. Good enough, there are several good solutions for this issue. Get Dad a portable power bank that he could use as a spare battery. Some are even weather-proof and shock-proof for Dad's rugged adventure.
If you're looking for something that would tap on Dad's geeky and playful nature, there are power banks available that are themed on your or his favorite fandom like the Darth Vader Mimobot Power Bank . He is your father, after all.
Don't forget to check out ThinkGeek's Father's Day sale on other quirky tokens.
Purchase Miles
If Dad likes traveling, chances are, he's already part of a loyalty program that rewards him points or miles. You can gift him more miles on his favorite airline or points towards his favorite hotel. If you have unused points yourself, you can use those to buy other products for gifts.
Points.com makes it easy to manage your several rewards programs. You can consolidate, trade points between programs or cash out unused miles in PayPal.
Action Cam
Adventurous or not, action cameras are a portable way of documenting your travel adventures. My personal favorite is the Sony FDR X-3000 . I like it because it has built-in image stabilization, which is usually the complaint with the GoPro (without its $299 stabilizer grip). The action camera comes with a waterproof case that protects it up to 197ft deep. It takes 4K videos, built-in Wi-Fi, bluetooth, NFC, GPS, HDMI, USB and mic jack. It doesn't have a touch LCD screen like the GoPro Hero5 Black but you can pair it with your smart phone to preview your shots.

The GoPro Hero 5 Black is a bit cheaper and has a touch screen LCD on it. It is also waterproof without the need for housing for up to 33ft deep. It also comes with voice activation commands for hands free control. You just have to say something like, "GoPro, take a photo."  GoPro also has cheaper options if you don't mind the LCD screen nor the voice commands. The Hero Session cameras are a win for both portability and affordability. The Hero Session 5 takes 4K videos while the Hero Session records Full HD.
Another great action camera, the 360Fly 4K, takes 360 videos if Dad wants to relive his travels in almost 360 degree awesomeness. There is also a cheaper 360fly that takes HD video instead.
Travel Camera
With today's smart phone, the quality of the images and videos are good. Dad probably already has one and the best camera you can have is the one on you. A gadget that Dad could appreciate to use with his phone is the DJI Mobile. It is a gimbal which stabilizes your phone resulting in smooth video clips. It also enables features such as motion tracking and motion time-lapse. The DJI Mobile swivels almost 360 degrees so he can record video of his environment and even himself.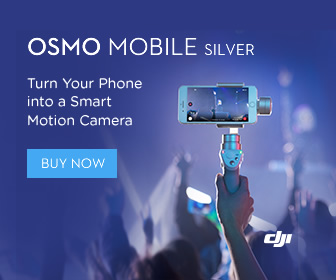 Maybe Dad fancies a new camera other than his smart phone. The Sony a5000 is not your cheap camera. For the price of $498.00 (with more accessories included), you get the portability of a great camera. Great image quality with 20.1 MP stills, Full HD video recording, interchangeable lens, flippable LCD screen (for those Dad selfies or vlog moments), WiFi capability (for file transfer or sharing to your phone). This is a good buy.
Dad Drone
Drones are a great way to capture nice aerial photography. It's like his favorite remote control toy from childhood only upgraded with lots of awesome features.
DJI makes top of the line drone cameras. I have 2 personal favorites because of their portability which makes them suitable for travel. The first is the DJI Mavic Pro which retails for $999 from the DJI store. That is a great price for a powerful and portable drone. Most drones are bulky and usually sell north of $1100.
Another DJI product that I recommend is the DJI Spark, which I featured in a previous news article. It's cost and size is almost half of the Mavic. It is perfect for those who don't mind the technicalities of flying a drone and just want a personal robot camera that they can control with either their smartphones or hand movements. The DJI Spark comes in different colors and it retails for $499.
Cool Kicks
Dads also loves shoes!
Reebok is currently having a Summer sale until 06/19/2017. Get 30% Off during the Reebok Summer Sale with code: SUMMER! Don't be limited with shoes, Reebok also sells great athletic gear that Dad could wear next time he works out!
If you even want more bang for your buck, check out Reebok's outlet store that has a BOGO 50% off discount.
You can even customize a Reebok for him. Choose your favorite Reebok design and add your touch to it to make Dad's shoe even more personal for him.
Sightseeing with Dad
Why not explore a new city with Dad?
CityPass lets you enjoy several attractions in a city without having to rush and spending too much. CityPass saves you time from trying to scour reviews of where to go or what to see in the city by giving you the top attractions in a certain place. The coupons and admission tickets in the booklet are good for 9 days from first day of use. We did this once during a long weekend in Chicago, IL and we love it so much that we would be using it again if we travel to the other cities it is available in.

Don't forget to tag #citypass with your travel photos for a chance to win 4 free booklets.
Good luck with your hunt for the perfect gift. We would love to hear what you are planning to do for Fathers Day. Share in the comments below!